We got an itch that only crushing some turkeynecks will fix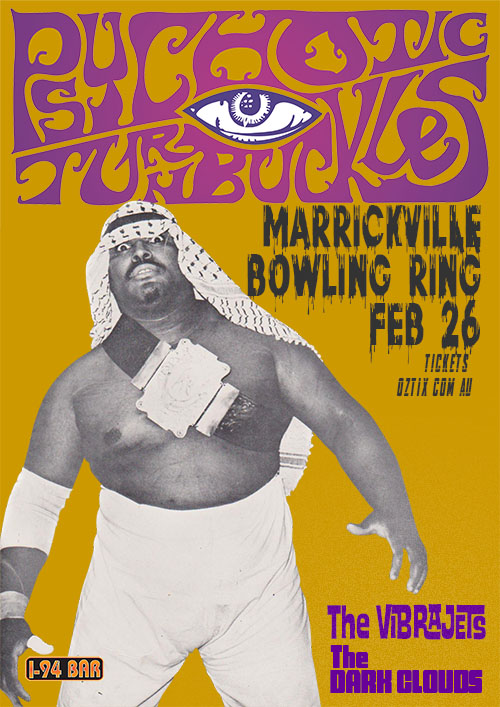 We're back and ready to crush all comers.. Get your tickets here as they will sell out.

The Psychotic Turnbuckles have been coaxed out of semi-retirement in their beachside mansions on the California coast to Destroy Dull Sydney one more time.

Make being at Marrickvile Bowling Club on Saturday February 26 your New Year's Resolution to see The Undisputed Champions of Rock and Roll bring the thunder.

Jessie the Intruder, The Grand Wizard, The Psychedlic Unknown, Count Forza and Gorgeous Karl Domah will be laying waste to two pretenders to the throne in Melbourne's The Vibrajets and The Dark Clouds.
Comprised of past and present members of The Stems, The Shimmys, and The Breadmakers, The Vibrajets aren't the garage band the pedigree might suggest.

This is wigged out and twangin' surf and frat and rock'n'roll that goes back to the source – and is best enjoyed while shakin' your moneymaker on the dance floor! They'll be packing copies of their "Gold Foil Fever" EP. Something tell us they'll need more than that to ward off a piledriver.

The Dark Clouds have few equals in the high-energy, baby-lets-twist stakes, arising from the Illawarra escarpment with their storming proto-punk jams. They'll be going down in a sleeper hold, too, so get there early.

These bums never disappoint and will be hawking a new clothing line of T-shirts - which will help to mop up the blood.
Tags: live, marrickville bowling club, vibrajets, dark clouds