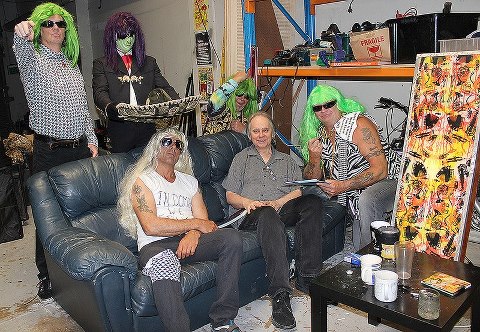 Citadel Records has announced the signing of Intercontinental World Tag Team Champions The Psychotic Turnbuckles in the lead-up to their first show after 15 years in seclusion.
Citadel will issue a double CD compilation of virtually all the band's recorded output in early 2013. The deluxe package will include comprehensive liner notes, recording annotations, gossip from inside the Tunbuckles camp and a generous selection of handbills and photos.
Some rare recordings will flesh out the release. A selected number of copies will come with a hidden foreign object.
The Turnbuckles will return to Australian stages with a one-off show at The Bald Faced Stag at Leichhardt in Sydney on Saturday, March 15. Support will come from The Bad Vibrations (ex-Persian Rugs, Booby Traps) and Cousin Betty (ex-Lime Spiders.)
The Citadel deal was inked at the band's rehearsals at the famed Clam Club in Pismo Beach, California.
"Citadel made us an offer after we plied label chief John Needham with champagne and women," said vocalist Jesse the Intruder. "We gave him a taste of the high life normally known only to wrestling royalty and everyone knows that once you leave Dull City in a 57 Chevy there's no going back."
John Needham responded: "I know when I'm beaten. There wasn't much I could do. El Sicoldelico applied a suplex and The Unknown delivered a powerslam. The Grand Wizard came off the top rope and I was pinned for the count."
Tickets for The Psychotic Turnbuckles Return to Dull City are available through moshtix.com.au