We are back and you will be grateful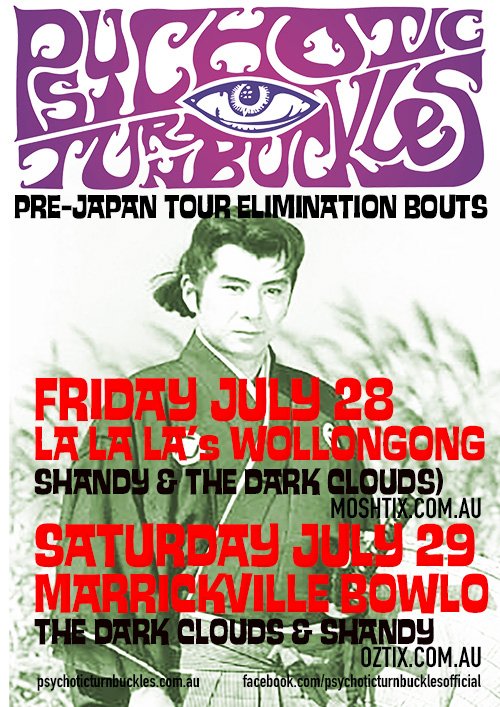 The pain will be real when the Psychotic Turnbuckles emerge from their palatial luxury homes in Pismo Beach and go on a two-city rampage in New South Wales in July.
The Turnbuckles play La La La's in Wollongong on Friday, July 28 and Marrickville Bowling Club on Saturday, July 29 as preparation for a Japanese tour in October.
Lame-brain failed gym flunkies, The Dark Clouds, and limp-limbed Brisbane bovver boy pretenders, Shandy, are making up the numbers on both bills .
Prepare to see them out-classed in two no-holds barred elimination bouts, courtesy of the Turnbuckles, who are rightly hailed around the Intercontinental Rock and Roll Team Champions (undefeated).
"We're heading to Japan to 'say no to sumo' but first we'll practice our moves on The Dark Clouds and Shandy," said Turnbuckles manager Chester Chitworth.
"We visited Australia for a training camp in a remote rural location earlier in the year and worked in our new bass man, The Infliktor, but this time is the real deal.
"We're a hot commodity in demand around the world so who knows when your sad little country will see us again? I'm outta here – we're going surfing."
The shows are I-94 Bar promotions. Tickets for both are on sale via Moshtix (Wollongong) and Oztix (Marrickville.)